An unforgettable trip to Silverthorne Colorado
Posted: August 10, 2018 @ 11:14 am
Summers vacations gives the opportunity to spend quality time with friends and family, that is why most of the picnics, trips and vacations are planned around summers. I live in sunny tropical west palm, Florida with my two kids and a loving husband; therefore most of our weekends plans are integrated with day out on beaches, where my kids swim and built sand castles while I bathe in sun with my favorite book. But when it came to summer vacations I wanted to get away from our usual beach spot and opt for something different. After going through tons of vacation brochures, trips to travel agencies, I and my husband landed on the perfect vacation spot Silverthorne Colorado.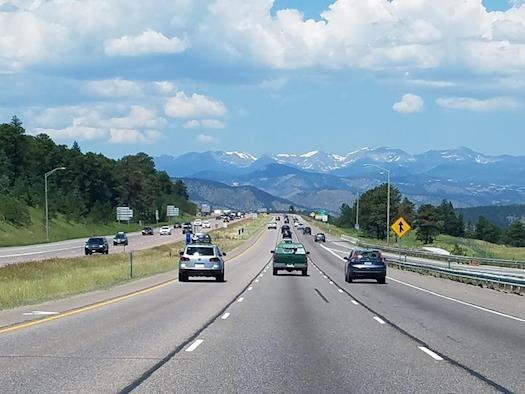 Hello, Colorado! It is good to be back!
This vacation spot proved to be perfect getaway for us, not only because of its picturesque surroundings and plethora of fun leisure activities but also because it was less-costly compared to international trips. We travelled by road which a trip in itself, we then meticulously picked the locations where we get to do different bustle each day. So we begin our vacations at Silverthorne with;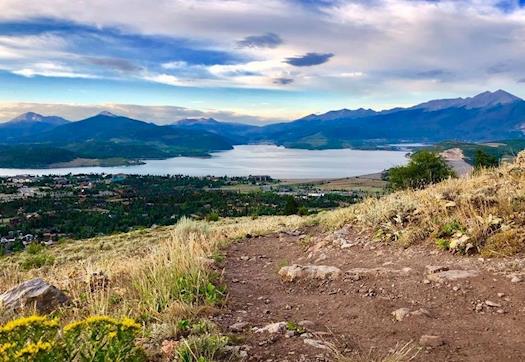 View of the Dillon reservoir
Dillon reservoir is the most scenic lake I have ever seen. The calm blue water was soothing and the mountains behind made it more exotic, we spent our day exploring lake by kayaking for a while, which was new experience for my children and they loved it, then spent the second part fishing which was again exhilarating for my kids.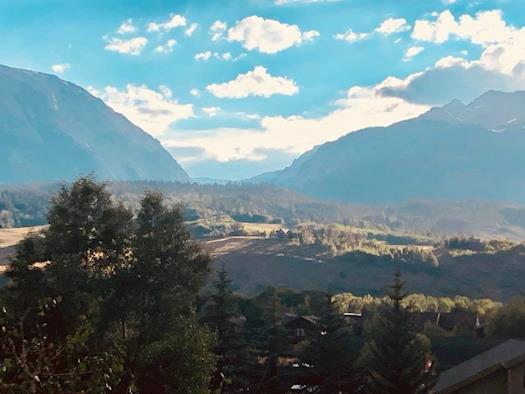 Ahhh... happy hour from the deck. What a beautiful view!
Our next spot was rock creek trail head, again we were awestruck by the sheer beauty of the surroundings and could not get enough of it.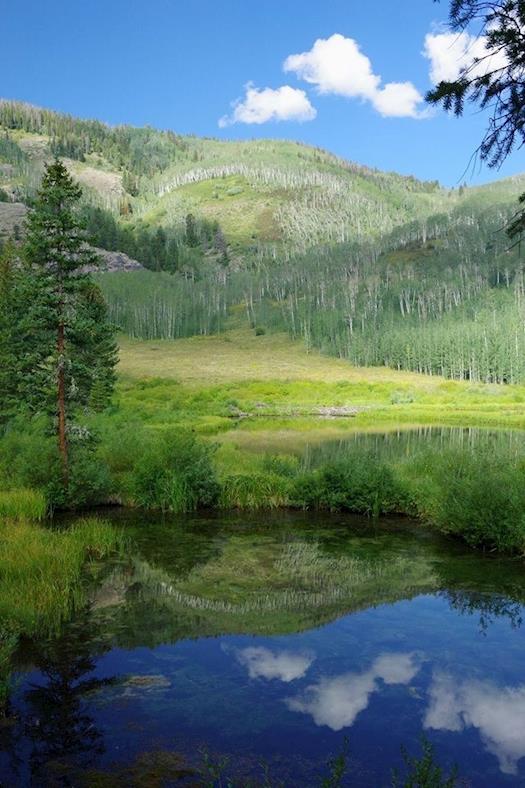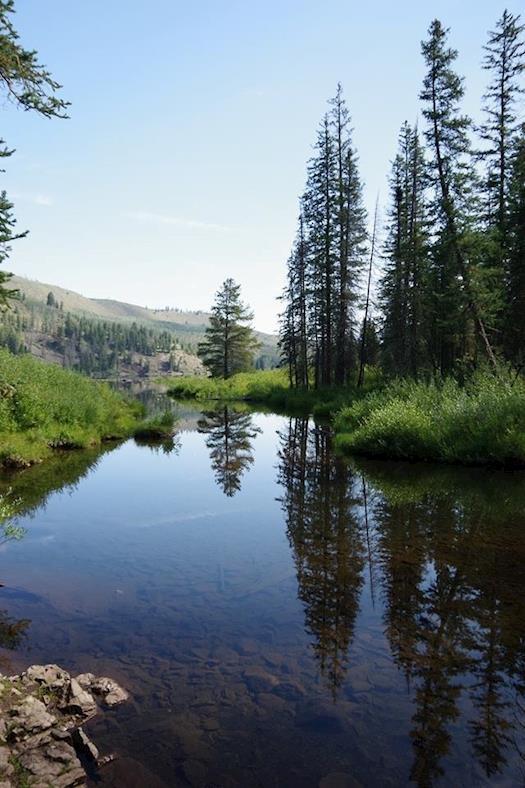 Lower Cataract Lake Loop, Silverthorne, Colorado.
It was a mesmerizing sight to behold, after lunch there we went to the nearby spot where canoeing was available and canoed other half day.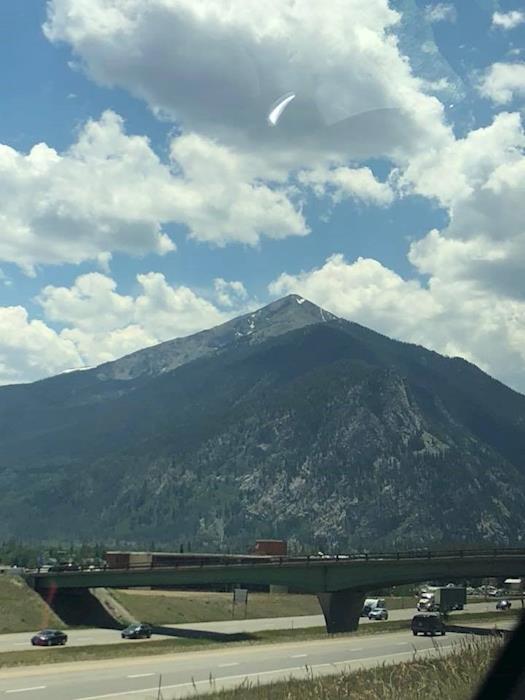 Rocky Mountains
Mountain biking remained the dominant action of the day, my kids maneuvered through rocky patches, steep hills and bridges crossing creeks and loved every minute of it.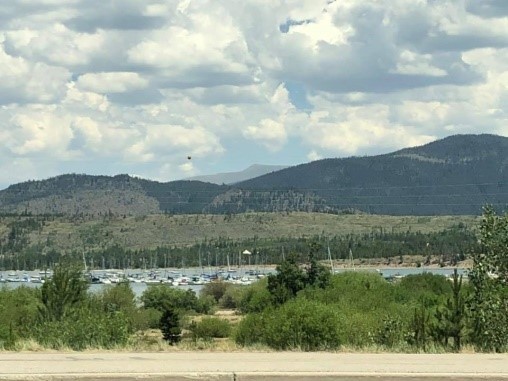 Boats in the Rockies
The boating was the favorite activity of my children and me. We spent hours in boat, sometimes fishing, sometimes just seating in the middle of lake gazing mountains.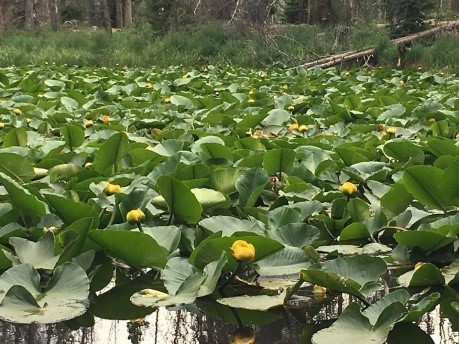 Lily Pond Lake
This lake is an ecological reserve of Silverthorne Colorado, this swampy lake was very different from the previous one, surrounded by mountains and old growth forest it looked like a picture from the children's story book.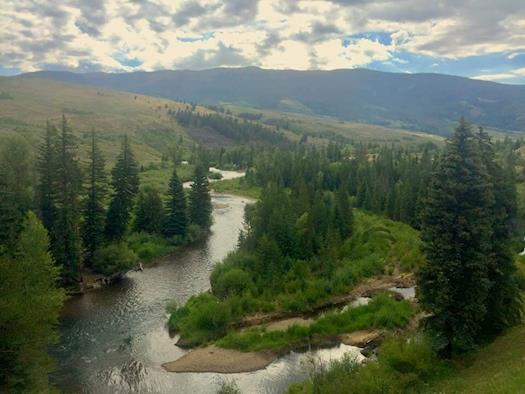 Blue River on 7/13/18
The fishing remained the major activity of the day then spent the latter day having lunch at the picnic point beside the lake.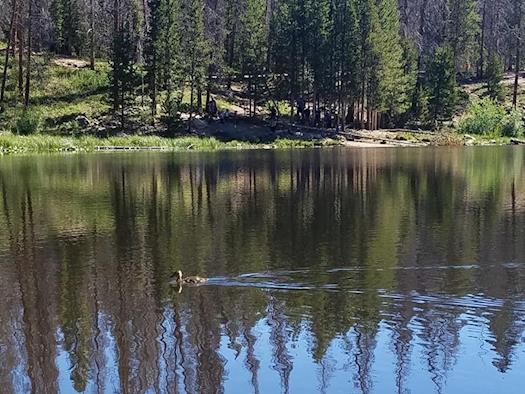 Lots of baby and mommy ducks
It is amazing so close to be nature, we saw all different types of nature animals. My kids were ecstatic after looking at the ducks and loads of ducklings.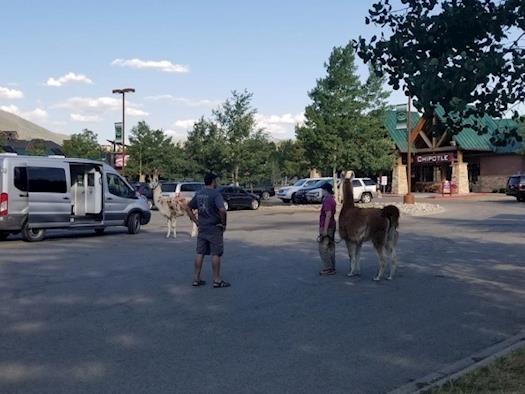 You don't see this every day. Lol!!! Just a guy and his alpaca enjoying a nice stroll to chipotle. The alpaca (Er maybe llama) is over the chit chat and getting hangry.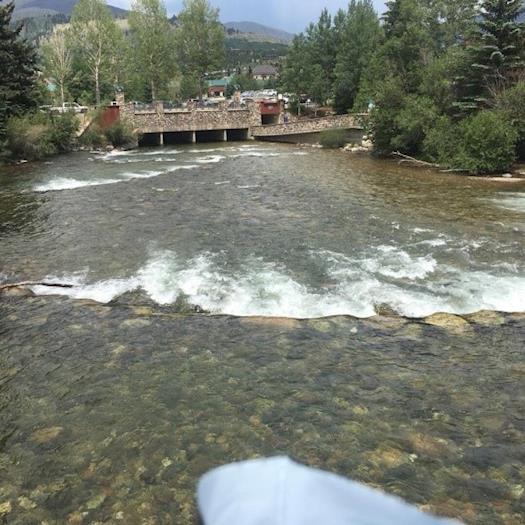 10000 feet above sea level mountain streams every where
This is highest point of Silverthorne Colorado, elevated at 9500 feet it gives the view of stunning nature playground, you could just spend hours and hours gazing down the valley below.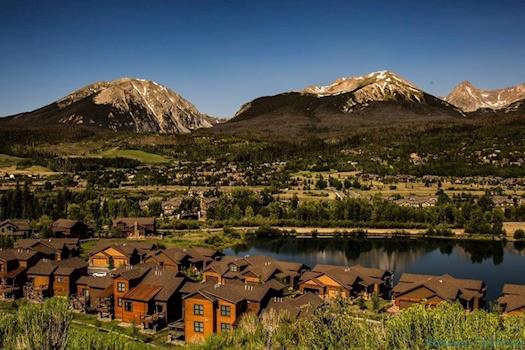 This is in our neighborhood. Buffalo Mountain.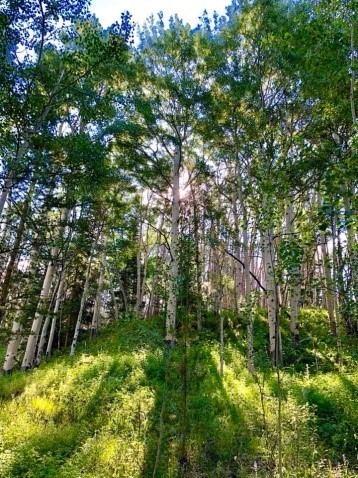 Beautiful Aspens
We kick-started the day with uphill climbing which was venturesome.
"No person ever steps in the same river twice..." - Heraclitus
This quote came to mind while traveling today, creating a moment to reflect on how we all change with new experiences- ideally growing with opportunities & learning from the challenges each of us face.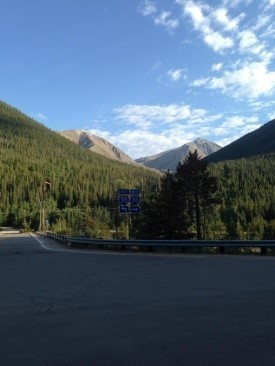 Into the Night
The city is full of scenic views, everywhere we go around the city we encountered amazing views of sky high rocky mountains.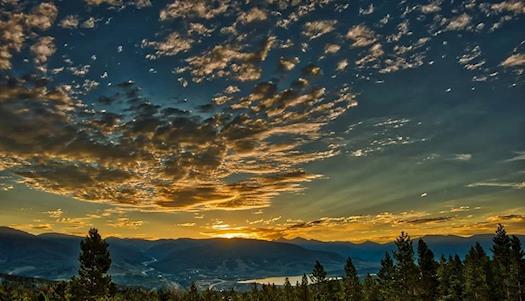 Sunrise from Buffalo Mountain Colorado. I was wishing this could have been this morning. Lots of smoke from the surrounding fires. Smells like a damp fireplace. Rain on those mountains now -- hopefully it will come this way.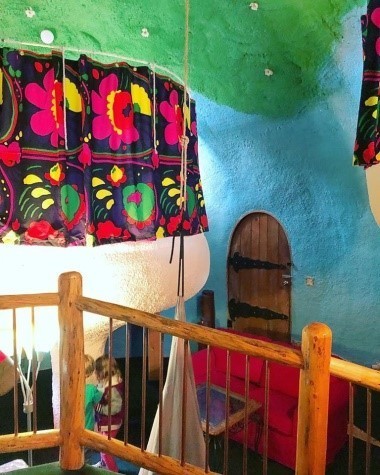 Yep, this is the inside of our @airbnb in silverthorne, CO, behind those curtains are beds in pods. Kid wonderland
Our Resort
Our agent booked the most ethereal hotel for us, with windows that faced stunning scenery. The resort was very comfortable and staff was extremely co-operative and friendly. They made sure our every requirement was fulfilled.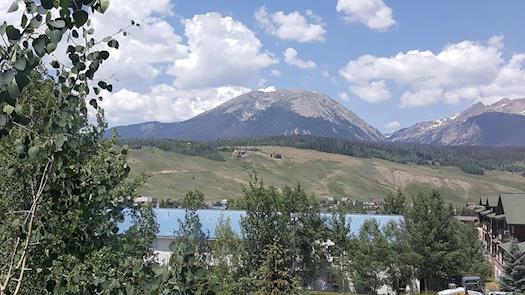 Gorgeous view from our hotel room! Ahhh!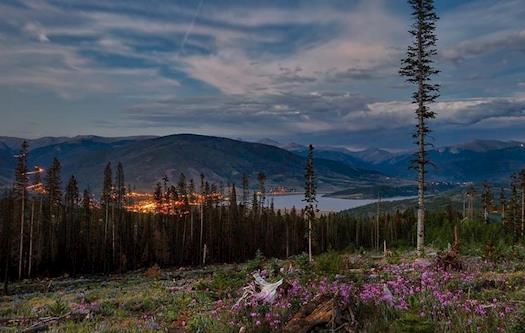 Silverthorne Colorado at dusk last night. This spot is right next to the condo we are staying at. A quick hop and skip from the front door and this is my view for the day. Been lazy and haven't gotten a sunrise yet. Maybe tomorrow.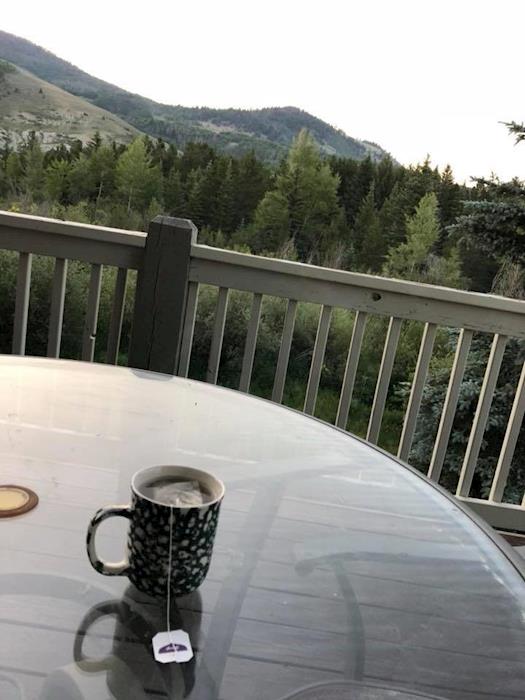 Mornings just don't start off any better than this! Love my fresh and cool mountain morning air with the water running in the creek below!!! Have a blessed weekend ahead!!!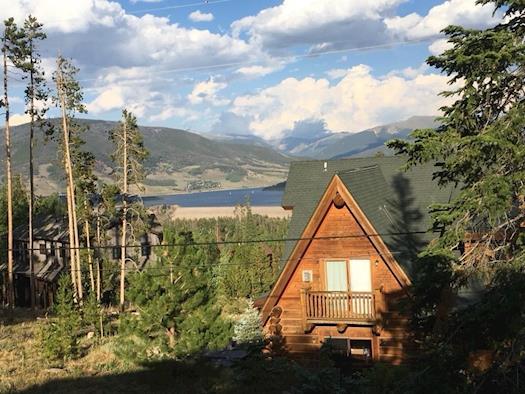 View from the deck. VRBO has been good to me! In Silverthorne Colorado
All these adrenaline packed trips totally re-energized us, nevertheless I will mention here it was not easy packing for this trip with my two kids. As I have mentioned above that each day we had planned different activities, so for each we needed different gears and equipment's. All of this could not have been packed and purchased beforehand, so while we were at Silverthorne Colorado we reserved 2 days out of 7 for shopping for the extra clothing and accessories for the next day. All the basic stuff was packed before we left for Silverthorne which included;
Boots
Gloves
Jackets
Gloves
Sunglasses
Moisture wicking shirts
Moisture wicking socks
Insect repellents
Sunscreen
Backpacks
Zip-lock bags
First aid kits
Compass
GPS
Torch
Although the basic stuff was crammed beforehand, nevertheless each commotion required some particular items which we decided to purchase in Silverthorne, as we could not possibly pack tons of items for different trips in our luggage. We shopped following items for the following activities
Fishing; hooks, lines, bobbers, natural worms and plastic worms
Kayaking; floating bags, swim wear, fleece jackets, buff
Mountain biking; lubricant, patch tube, tire pump, shock pump, headlights
Hiking; tent, map-case, altimeter watch, repair kit
Canoeing; signature devices, emergency floating, throw line, paddling gloves, nylon cord, duct tape
The best part about the shopping was, we didn't have to travel much farther outside the town, all shopping venues were located near our hotel in the town. I purchased items from Wal-Mart, Gap, Summit Thrift and Treasure, Outlets ant Silverthorne and Sun & Ski. All the items I needed were easily available in all the sizes at affordable range. Many of the items were available on rent too but I made the best of budget through saving coupons. I knew for sure most of these items were not going to be used again and my children would outgrow most of this stuff in blink of an eye, thus I was reluctant to spend my hard earned money for few hours. Therefore from resort booking to renting kayaks and canoes, meals at local eateries to shopping at marts I made use of saving coupons to avail discount as much as possible on each item and believe me it saved me considered sum of money. I got hold of these coupons from different websites, not only I did used them while shopping in Silverthorne Colorado but I also utilized them while I was packing in palm west and I have to say it was worth it.
All in all this trip was worth taking, its memorable scenic views were breath of fresh air and the power fueled recreational activities really rejuvenated us all for many months to come. I would suggest you all to make a trip to Silverthorne following summers; you will not be disappointed by its stunning views, picnic spots and loads of recreational activities, especially if you have kids. Furthermore another travelling tip I would like emphasize on are "saving coupons" make the most of them while you are at it, you will be amazed in the end by the amount you have saved by doing so.
Author:
Chris Nddie
Viewed:
713 Views
Check Out All Of 's Images, and Blogs!
Comments:
Posted By:
Chris Nddie
Location:
Tustin, California
Storeboard City:
Tustin, California
Status:
Just Joined StoreBoard & Now Exploring it.



1,462 Days Ago