Buying Vs Renting Used Plant Machinery
Posted: November 29, 2016 @ 8:33 am
Other Blogs Posted By:
Jason Haze
This is probably the biggest question you'll be faced with in terms of purchasing your equipment, and something you should be seriously considering before making any decisions. To help you out, here are some pros and cons of both renting and buying your used plant machinery.
Money Concerns
One of the main aspects of choosing between renting and buying is your budget. If you're a small business with less money to spend, it might make sense to rent machinery. In this way you can begin to build up your profits and work load, and then buy something good when you have enough, rather than compromising on quality now. However, keep in mind that rental costs do add up over time. If you have more money, you're in a better position to outright buy – but that doesn't necessarily mean you should. Visit one of many plant traders available to consider all the other factors before deciding.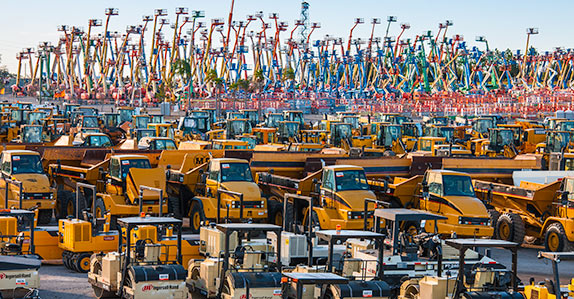 How Frequently You'll be using it
Another major factor is how frequently you'll be using it. If it's for a job you'll be performing frequently, it makes sense to buy the equipment, whereas renting might be the better option if it's more of a one-off. There's no point buying something to use once or twice and then keep in storage for the rest of the year. Another consideration would be whether you want to hire your machinery out when it's not in use – something you can only do if you own it.
Flexibility
If you rent your equipment, you do have to be aware of how long you have it for, and also if there are any rules and regulations about its use. If you own your equipment, you have much more freedom. This allows you to be more flexible with jobs – for example, if a project overruns or has to be put on hold for a little while, it's not going to run up rental costs or mean you have to return the machinery before the job's done. In some cases, the freedom of owning your machinery could make you appear more professional.
Can you Manage?
Owning a fleet of your own plant machinery may be nice, but it also comes with a lot of maintenance and potential problems. Do you have the time and money to look after your machinery? If problems and faults arise, will you be able to deal with them? You'll also need storage for all your equipment, such as an outdoor site or large lock-up, which is going to be an extra cost. If you rent your machinery, you won't have to deal with any faults and issues and storage will be far cheaper if it's only short term.
Know Your Tools
A perk of buying your equipment is getting used to it. Like driving a car, each make and model is different and takes some time getting used to, so if you're constantly changing your equipment through renting, it may get a little annoying. Whereas if you've bought your machinery, you'll be familiar with how it works. This means that jobs will get done quicker and you'll generally feel more confident behind the wheel.
Whether you're a little company or a big brand, there are perks to both buying and renting your used plant machinery, and downsides to each as well. Making sure you've considered all these points before you make a decision is essential to getting equipment that's going to be right for you. This is about more than just the pride of owning your gear; it's about being realistic and practical in decisions that will shape your business.
Author:
Daniel Wilkins
Viewed:
102 Views
Check Out All Of Jason Haze's Blogs!
Comments: